Can you be cool and practical? Skinny jeans and the high-heeled shoe would indicate otherwise, but the 2011 Scion tC proves that it just might be possible. It certainly seems pretty cool, with a coupe body style, sharp looks and a variety of customization opportunities for younger buyers accustomed to getting things the way they want them. Scion has also frequently updated the tC's audio systems, which has given it a leg up as iPods and iPhones have gradually taken over the world.
At the same time, however, the tC's coupelike roof line masks impressive cargo capacity and a surprisingly spacious backseat. Moving dorm rooms or taking your friends out on the town is consequently much easier with the tC than it is with traditional coupes. This ability to be both cool and practical is indeed the tC's primary appeal, although sharing a reputation for reliability with Toyota (Scion's parent company) is a compelling attraction.
All of this goes for new and used Scion tCs. The current car represents a complete redesign for 2011; it's not so different that you'll feel short-changed should you head to the certified pre-owned lot instead. Though the new car certainly has its advantages, the tC has always combined cool with practical.
Current Scion tC
The 2011 Scion tC is a five-seat compact coupe with a hatchback trunk. A 2.5-liter four-cylinder is standard, boasting 180 horsepower and 173 pound-feet of torque. A six-speed manual transmission is standard, and a six-speed automatic is the lone factory option. EPA-estimated fuel economy of 26 mpg combined with either transmission is an improvement over the old car.
As before, there is a single trim level available on the tC. Some of its most important standard features include stylish 18-inch alloy wheels, a panoramic sunroof, a telescoping steering wheel, side curtain airbags and an eight-speaker Pioneer audio system with an iPod interface. Dealer-installed options include Bluetooth, navigation, a pair of upgraded stereo head units and seven-color interior mood lighting (a feature the previous tC popularized).
Although the Scion tC is classified as a compact car, its relatively long wheelbase provides more than ample legroom, especially for those riding in the back. Long doors and sliding seats make entry and exit relatively easy, and rear passengers will also enjoy the split-folding rear seats that recline up to 45 degrees. With its rear seats folded down, the tC has nearly as much cargo volume as a compact SUV. The tC's passenger-side front seat also folds flat, which enables the car to accommodate long items such as snowboards or surfboards.
The tC's new cabin design has a 1980s vibe, and it's a bit drab without the metallic trim pieces featured by the first-generation car. The stereo and climate controls are canted toward the driver, which is a nice touch, and the flat-bottomed steering wheel with its overly thick rim seems to imply a sporty driving demeanor.
Overall, the 2011 Scion tC hasn't raised the bar much in the coupe segment, but it's still a great choice for younger buyers, as it's stylish and practical in a way that suits those who carry an iPhone in their pocket and an iPad in their messenger bag.
Scion TC

scion tc photo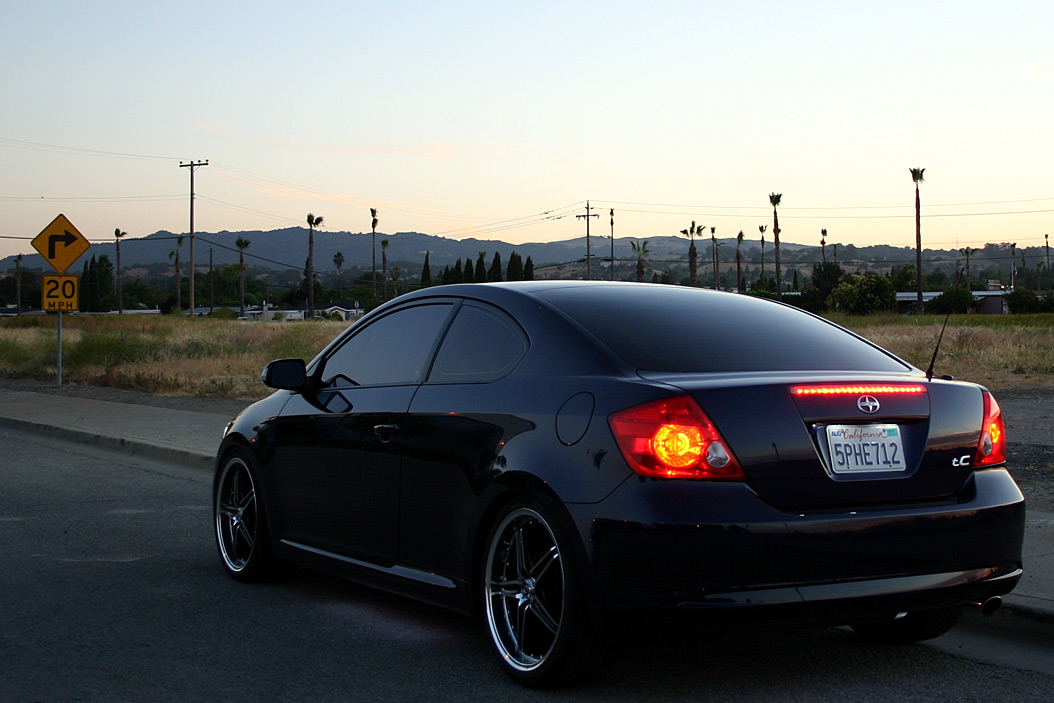 scion tc pic
scion tc
scion tc car review
scion tc grage
Used Scion tC Models
The first-generation Scion tC was produced from 2005-'10. Like the current car, it was a two-door hatchback coupe with five seats and a single trim level. Standard equipment included 17-inch wheels, air-conditioning, split-folding-and-reclining rear seats, keyless entry, full power accessories with one-touch power windows, a dual-pane sunroof, cruise control, steering-wheel-mounted audio controls and a premium sound system. An iPod interface was added for 2008, making the tC one of the first vehicles to get such a feature.
A considerable number of optional features and accessories (from the factory or dealer-installed) were available on the Scion coupe. Most notable was the airbag package with side and head curtain airbags, so make sure to note whether a used tC is so equipped. Other mods included interior and exterior styling add-ons, 18-inch wheels, audio system head unit upgrades and Toyota Racing Development (TRD) performance parts.
Power came from a strong 2.4-liter four-cylinder engine good for 161 hp and 162 lb-ft of torque. A five-speed manual was standard and a four-speed automatic was optional. Fuel economy was one of the tC's detriments, with an EPA combined rating of 24 mpg for the automatic -- about the same that most midsize sedans offer. There was a dealer-installed TRD supercharger available that raised engine output to 200 hp.
Inside, this tC's layout was very similar to that of the current car, with a roomy reclining backseat and generous hatchback trunk. There wasn't as much front seat legroom, however, and the steering wheel did not telescope. The tC's cabin had an upscale look and feel thanks to high-quality materials (for the time and class) and metallic-look trim pieces. An elegant "waterfall"-style center stack flowed into the center console, with a panel that covered up whichever of the many available stereo faceplates were affixed to the car.
In Scion tC reviews, our editors commented that this tC was enjoyable to drive, though hardly a sport coupe. Although its acceleration figures weren't stunning, the tC was quick enough for typical urban use. As with the current car, we were most impressed by its ability to be both stylish and practical, noting it was an ideal car for the youthful demographic for which it was intended.
This original tC changed very little during its run. However, there were minor exterior and interior updates made for 2008 -- including the addition of an iPod-specific interface. There were several updates made to the available stereo systems over the years as well, along with new items added to the extensive optional features list.
A decontented, tuner-intended version known as the Spec was available for a few model years (ending in 2008) and could easily be picked out of a crowd by its unique paint colors and badge-less grille. The Release Series 6.0 for 2010 looked similar, but it actually had more equipment than the norm.